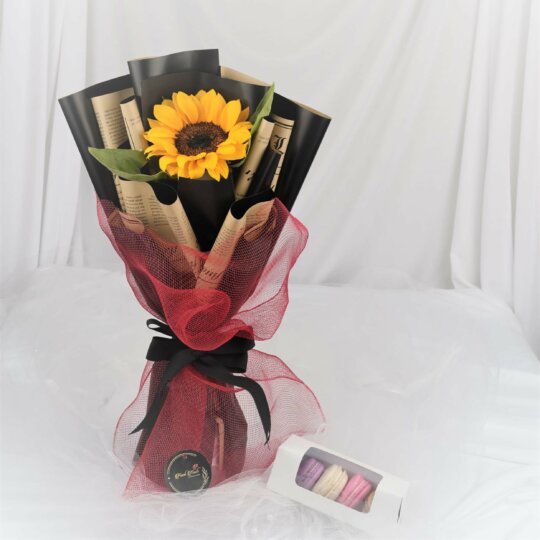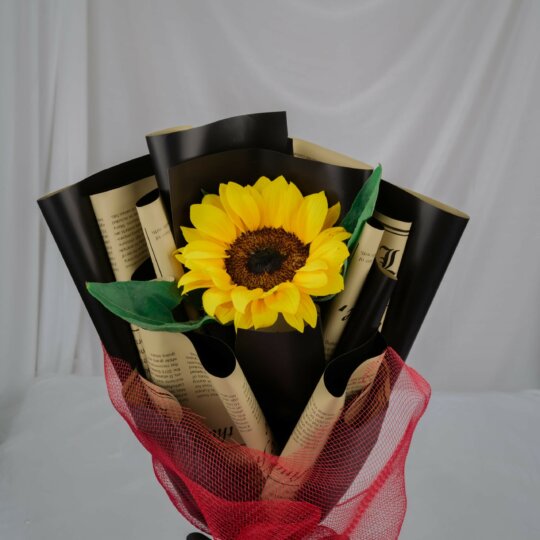 Combo – Sunflower with Macarons
An enchanting combo of Sunflower Bouquet and Macaron, a delightful pairing that captures the essence of sunshine and sweetness. This exquisite combo combines vibrant sunflowers with delicate macarons, creating a memorable gift that radiates joy and indulgence. Presented together this combo is a visual and gastronomic delight. The combination of the sunflowers' radiant hues and the macarons' pastel palette creates a harmonious aesthetic that is as pleasing to the eye as it is to the palate.
What you get
No. of fresh flowers stems: 11
Type Of Flowers: Sunflower
Colour of Flowers: Yellow
Décor: Black And Red Paper n Net wrap
Goodies: Assorted macarons 4 pcs
Perfect gifting for: Family, Friend, Colleague
Description
The images seen here are from a recent arrangement that we dispatched to customers like you. Flowers and plants, as well as additional presents, are natural goods over which we have little influence. As a result, we may change some flowers depending on the season and availability to ensure that the gifts with flowers delivered to you are fresh and of great quality. Because these are natural goods, plant size and appearance may vary. The artefacts in the image are intended for illustration reasons and may not accurately represent the gift included in the arrangement.