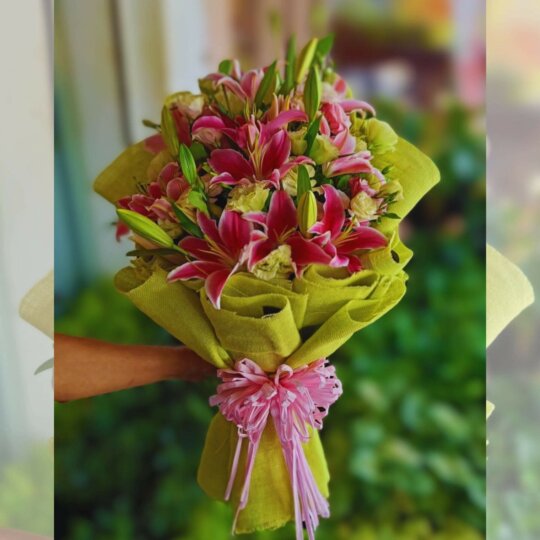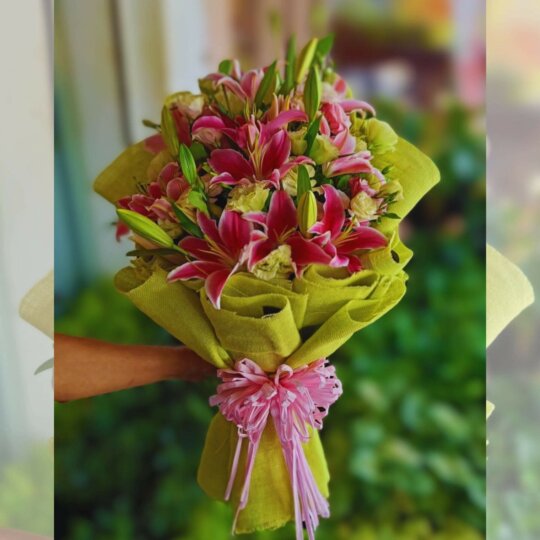 Earthy Charm – Bunch of Lilies
Mesmerizing  bouquet that combines the beauty of pink fragrant lilies with the rustic charm of green burlap wrapping. The focal point of this bouquet is a selection of stunning pink oriental lilies, renowned for their graceful petals and intoxicating scent. These lilies symbolize purity, devotion, and prosperity, adding a touch of sophistication and grace to any setting. The delicate fragrance of the lilies will infuse the air, creating a soothing and calming ambiance.
To enhance the rustic appeal, the bouquet is artfully wrapped in green burlap, adding texture and a touch of natural beauty. The burlap's earthy color and coarse texture perfectly complement the softness of the lilies, creating a visually captivating contrast.
What you get
No. of fresh flowers stems: 15
Type Of Flowers: Oriental Lilies and Eustoma
Colour of Flowers: Pink and Shades of Pink
Décor: Green Burlap Wrap
Perfect gifting for: Family, Friend, Colleague
Description
The images seen here are from a recent arrangement that we dispatched to customers like you. Flowers and plants, as well as additional presents, are natural goods over which we have little influence. As a result, we may change some flowers depending on the season and availability to ensure that the gifts with flowers delivered to you are fresh and of great quality. Because these are natural goods, plant size and appearance may vary. The artefacts in the image are intended for illustration reasons and may not accurately represent the gift included in the arrangement.