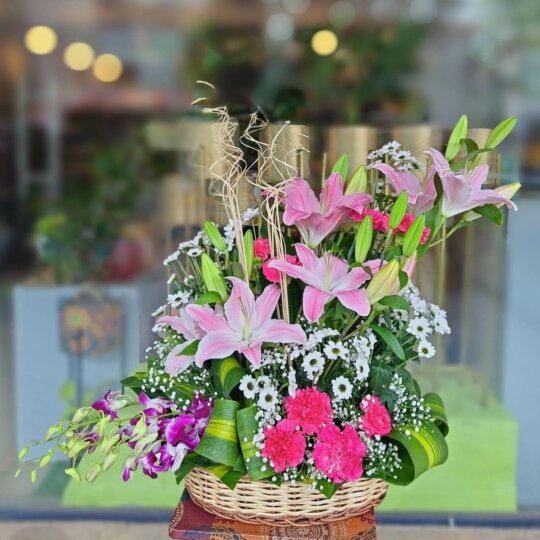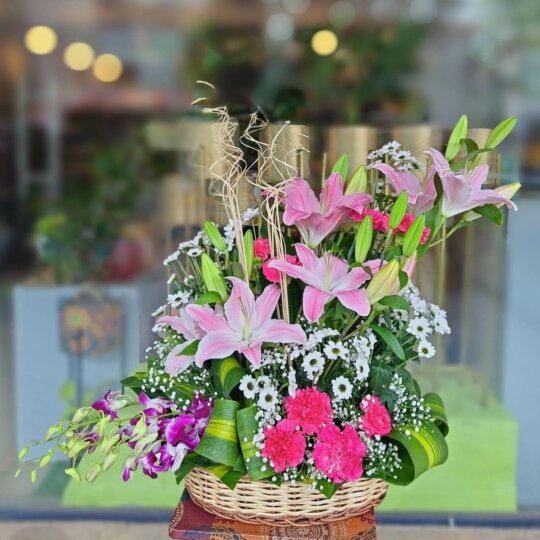 Floral Harmony- Basket of Pink Lilies and Carnations
Floral Harmony, featuring pink lilies, dark pink carnations, white daisies and purple orchids. This charming arrangement is perfect for any occasion, expressing admiration and affection with grace. The combination creates a stunning display of colors and textures. The pink lilies is full of fragrance and represent beauty and admiration and carnations and orchids add a touch of sweetness.
A perfect floral arrangement to make someone's day special.
What you get
No. of fresh flowers stems: 24-26 stems
Type Of Flowers: Oriental Lilies (Fragrant), Daisies, Orchids and Carnations
Colour of Flowers: Pink and White
Décor: Oval Basket
Perfect gifting for: Family, Friend, Colleague
Description
The images seen here are from a recent arrangement that we dispatched to customers like you. Flowers and plants, as well as additional presents, are natural goods over which we have little influence. As a result, we may change some flowers depending on the season and availability to ensure that the gifts with flowers delivered to you are fresh and of great quality. Because these are natural goods, plant size and appearance may vary. The artefacts in the image are intended for illustration reasons and may not accurately represent the gift included in the arrangement.