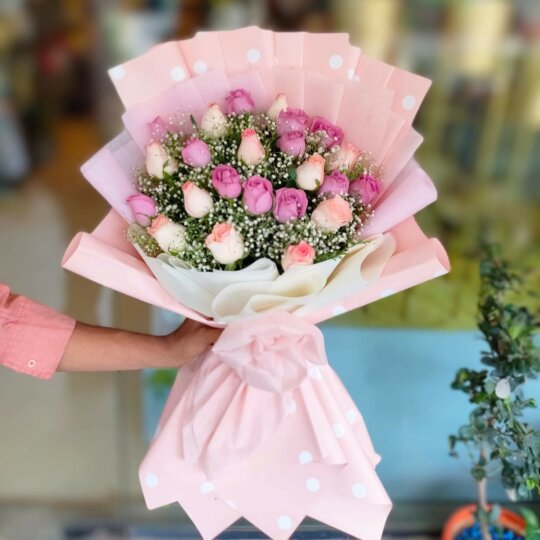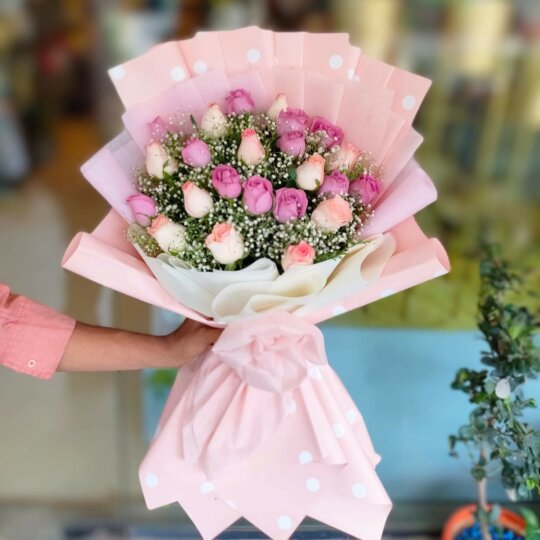 Peaches And Blush – Bunch of Roses
This stunning bouquet features an assortment of carefully selected pink and  assorted shades of pink, each chosen for their exquisite petals and enchanting colors. The soft, romantic shades of pink symbolize affection, admiration, and gratitude, while the gentle tones of peach convey warmth, sincerity and friendship.
This handcrafted arrangement showcases the timeless beauty of roses in delicate hues, making it a perfect gift for any occasion or a delightful treat for yourself.
What you get
No. of fresh flowers stems: 30
Type Of Flowers: Roses
Colour of Flowers: Pink and Shades of Pink
Décor: Pink and White Paper
Perfect gifting for: Spouse, Friend, Gift for Her
Description
The images seen here are from a recent arrangement that we dispatched to customers like you. Flowers and plants, as well as additional presents, are natural goods over which we have little influence. As a result, we may change some flowers depending on the season and availability to ensure that the gifts with flowers delivered to you are fresh and of great quality. Because these are natural goods, plant size and appearance may vary. The artefacts in the image are intended for illustration reasons and may not accurately represent the gift included in the arrangement.